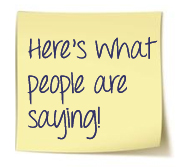 Testimonials
Peer Mentors
"Thank you for having me as a Peer Mentor over these past 10 weeks. It was truly a wonderful experience."
Heather H.
---
Players
"It was interesting to see Alana use her creativity and ideas in getting the players to engage. One of the activities that stood out most is the Yes, and Offer game. I like this game, because it is important for us to appreciate and accept the offers of each other. Building on each others' offers can also help to create team effort and participation."
Rox Anne J
---
"Interactive – Wonderful Presenter!"
Barrie Participant
---
"It was awesome!"
Duncan Mc (age 14)
---
"Alana got everyone involved without pressuring them!"
Markham workshop participant
---
Parents
"It was great knowing my daughter was having fun!" 
parent of Newmarket player.
"I just wanted to let you know that my daughter Jen just completed her two interviews required for acceptance to her program and she did amazing. In fact, one of the interviewers asked if she "trained" somewhere because she did so well on the interview.
A great big thank-you is being sent your way. I know for a fact that Jen did so well because of your improv course. The first time she took it she enjoyed it but after completing the course a second time it was obvious that she benefited from the skills you taught. Her social interactions are becoming more "natural" as noted by family and friends.
Thank-you for offering a program like this. It is making a big difference in my daughters social interactions."
Elizabeth, Parent of a Newmarket Player
---